One of my favorite details in Walt Disney World is the windows on Mail Street in the Magic Kingdom. I enjoy walking down Main reading the windows, paying attention to the names and the details. Each one is a tribute to an Imaginear and the imaginations of those who work so hard to ensure each Guest has a magical experience. Some of the names are familiar and others are not. Many times a name will stick with me after I am home, prompting me to look it up to see what the individuals contribution was, a visible history lesson! Each 'window' is a tribute to the past so to say, paying homage to a person from different parts of the organization, from corporate officers to operators. All have one thing in common, they all made a significant impact on the legacy of Disney Parks.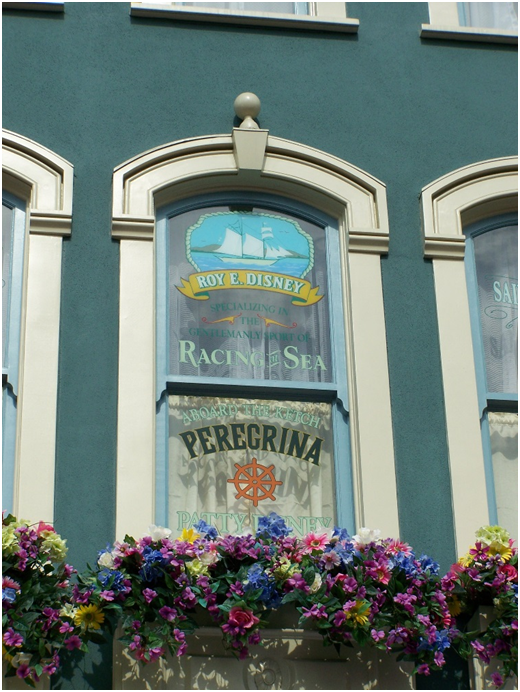 Each trip I notice different windows with the names of individuals that helped to create the magic I love so much. On a recent trip I found a window with Roy Disney's name. I may have seen it before but this time it really caught my eye. Would there be a Walt Disney World or any Disney Park without Roy E Disney? Maybe……maybe not!!!! He was Walt's support, Walt's voice of reason….Walt's support!!!
Walt and Roy were brothers as well as business partners. Walt was the creative genius while Roy was the financial wizard. They founded Disney Studios together and when Walt passed away before his dream was realized in Florida, Roy saw it through. He was there when Walt Disney World opened in 1971. It was his labor of brotherly love, seeing his brother's dream come alive!
His statue with Minnie Mouse is one of my favorites as is his window. I located it on my last trip and was able to get this picture. Roy Disney gentleman, specializing in sea racing! Gentleman, yes, visionary, yes!! Great brother YES!!!!
His support allowed Walt's dream of a family friendly park as well as many other visions to come to life. Thank you, Roy!!!!!
So the next time you stroll down Main Street, look and see the stories that unfold before your eyes. The story of those who helped make the magic. Walt's window is there as are many other visionaries that helped create the magic we share!